We have captured some 10 free computer screen video capturing softwares around the web. Now its very easy to record tutorials, screencasts and other activities. Please keep in mind that this is not a post regarding screen capturing softwares which only capture a static image of your desktop or whatever. Enjoy and share more if you know.
01.CamStudio
CamStudio is able to record all screen and audio activity on your computer and create industry-standard AVI video files and using its built-in SWF Producer can turn those AVIs into lean, mean, bandwidth-friendly Streaming Flash videos (SWFs)
Freez Screen Video Capture is a screen-capture & screen-recording tool to record screen activities and sounds into standard AVI video files.
03.Debut Video Capture Software
Capture video files directly on a PC with this completely free, easy to use video recorder program.
AutoScreenRecorder 3 Free is a completely free screen recorder to save your screen activities into video files.
05.Jing
Jing is free software that can add visuals to your online conversations.
06.Webinaria
Record software demonstrations and tutorials.
07.TechSmith
We create screen capture and recording software to help you communicate clearly and effectively, deliver engaging presentations, analyze usability and conduct market research.
Super Screen Capture is an all-in-one software for screen capture. You can capture screen in many ways, including full screen capture, region capture, window capture, scroll capture, directx capture, video screen capture, sound record and etc.
Extra Screen Capture Pro is an easy to use, powerful and lightweight screen recording program. It can capture screen activities and sounds to standard AVI video file or EXE file.

10.HyperCam
HyperCam captures the action from your Windows  screen and saves it to AVI (Audio-Video Interleaved) movie file. Sound from your system microphone is also recorded.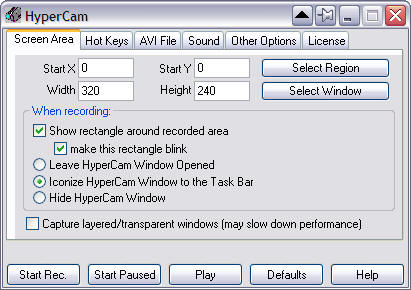 If you like this article, please help us spread the word by bookmarking this article using any of the following bookmarking sites buttons.
You can also follow us on twitter or subscribe to our feed.